Containing reputational fallout
Reprints
Once the responsibility of public relations departments, reputational risk has become a core concern for many risk managers as they become more involved in crisis planning.
Risk managers can play a critical role in addressing reputational risks — which are complicated by the rise of social media — because they often have the broadest view of risk factors across an organization.
"The risk manager role has really transformed in the last 10-plus years," said Renata Elias, vice president and reputational risk consultant with Marsh Risk Consulting in Dallas. "They're not only involved in conducting risk assessments to determine what the risks are to the organization, but are also part of the planning process to make sure the training and exercises are done, and also working with insurers to make sure that proper coverages are put in place before a crisis hits.
The best practice is that the risk manager is also part of any crisis management team so they're in the boardroom as part of the decision-making process."
"From my experience, having risk management at the table can help very early in the process identify where there may be some risks," said Nancy Wilson, director of quality assurance risk and safety, at food retailer Wawa Inc. in Media, Pennsylvania. "At the end of the day, it's really about protecting our brand and making sure we keep the trust of our customers." 
Two schools of thought exist around reputational risk, with some observers believing that reputation risk exists and can be directly managed, and others seeing it as encompassing day-to-day business risks that could be harmful if not properly managed — a view that is perhaps more prevalent, said Andrew Bent, speaking as chair of the Risk & Insurance Management Society Inc.'s Strategic Development Council, and Atlanta-based risk manager for the Americas with software firm The Sage Group P.L.C.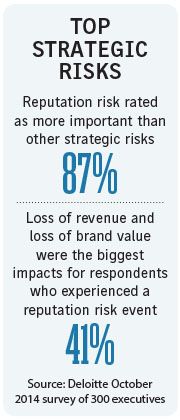 In 2014, RIMS published two reports, Understanding Reputational Risk and Managing Reputational Risk, outlining a strategic framework for addressing the risk. "This should be a strategic issue for an organization — up above the silos," said Mr. Bent, who co-authored the Managing report. "If we want to manage these factors that impact our reputation, we need to do it as one organization. If you're managing within silos and everybody's doing the right thing, generally speaking you're probably not going to have too many reputational challenges, but you might not be able to push forward as well as if you have a strong strategic base for doing something new." 
Several risk factors jump to the top of the list when it comes to reputational risk: the conduct of employees or third parties, mergers and acquisitions, and ever-present cyber challenges, said Henry Ristuccia, strategic and reputation risk leader for Deloitte Global in Parsippany, New Jersey.
Social media can aggravate the damage caused by reputational risk, experts say.
"That's a real game-changer because of its prevalence and its speed," said Judy Selby, managing director at consultant BDO USA L.L.P. in Stamford, Connecticut. "Traditionally, a lot of risk managers and corporate boards would look at risks more internally — 'What are we doing that will affect how we're perceived in the marketplace?' — and that's super important. But the rise of social media in particular has made it imperative for companies to realize that a lot of these threats can originate from the outside and develop a strategy to approach them."
To mitigate external reputation risk, it is critical for firms to examine their current reputations, determine what they want their reputations to be and what the key threats are to their ideal, she said.
"Get online and see what's being said about you, what your reputation is in the marketplace, and set up systems to monitor it," Ms. Selby said.
Social media can "dramatically impact a company's brand," which increases the importance of managing reputational risk, Ms. Wilson said at the Philly-I Day 2017 conference in Philadelphia in March. "We've got to stay as fast as what's coming out there from a social media standpoint," she said. "We do an (enterprise risk management) program and we go through the process of risk ranking, and we put food safety as our number one risk, as it should be, but it all ends up ultimately supporting our reputation. Our brand is a brand that customers trust and we have to make sure we maintain that."
Losses experienced due to reputational issues directly correlate to increases in generalized public anger, as demonstrated by angry posts on social media, according to a study conducted by Pittsburgh-based Steel City Re, which offers insurance and risk management solutions for reputational risk.
"Heightened level of anger is very much related to reputation risk because it's a battle for the hearts and minds of stakeholders," said CEO Nir Kossovsky. There are a limited number of insurers that cover the financial loss related to a reputational risk, he said, adding that his firm is advising more than 200 captive insurer owners on reputational risk.
"I think we have to remember reputational risk per se is an extraordinarily challenging risk for the traditional markets to get their heads around," said Derrick Easton, managing director, alternative risk transfer solutions practice, Willis Towers Watson P.L.C. in New York.
"When you look across the markets today, there are various responses depending on the confidence that we have in the underlying dynamic. That may be risk transfer where there are markets for reputational risk contracts. It may be traditional markets who can offer some reputational or brand coverage and it could be in the alternative markets where we might come at it from a different angle," he said.