Wildfire losses mount as adjusters stand by
Reprints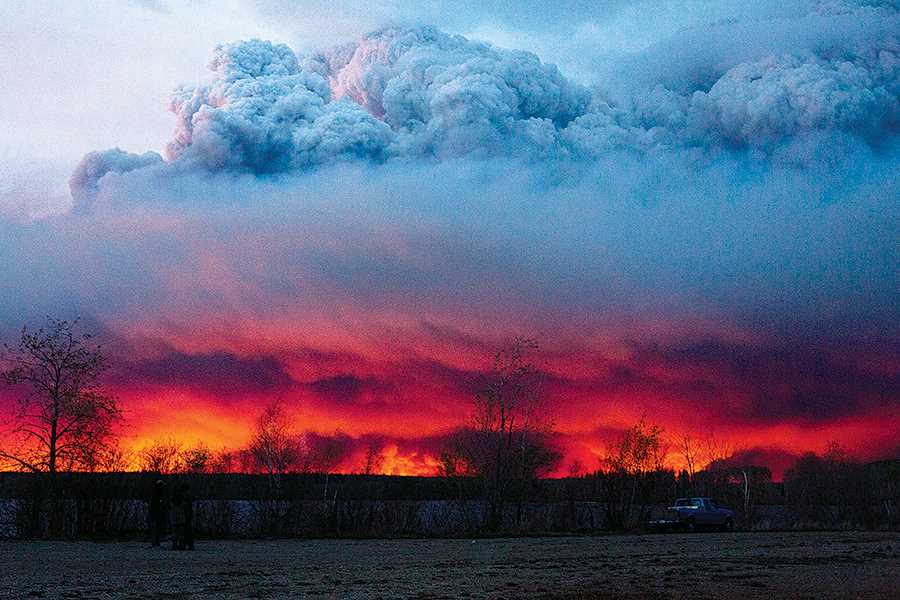 Wildfires sweeping through parts of Alberta for weeks are likely to be Canada's costliest catastrophe for property/casualty insurers with estimates of insured losses reaching nearly $7 billion, much of it borne by reinsurers.
The fires, which began May 1 in the Fort McMurray area, reportedly spread last week toward two oil-sand mining operations and forced the evacuation of some 8,000 workers. Lost oil production averaged about 1.2 million barrels per day for 14 days, according to the Conference Board of Canada.
As of Friday, the wildfires had burned more than 1.2 million acres and spread into neighboring Saskatchewan, according to catastrophe modeler Risk Management Solutions Inc. Roughly 1,900 structures were burned in Fort McMurray, whose nearly 90,000 residents were evacuated.
AIR Worldwide said its estimates of $3.4 billion to $6.9 billion in insured losses make the Fort McMurray wildfire "the costliest natural disaster in Canada's history." Several other organizations agreed.
While residential homes are the majority of the losses, several groups of oil workers were evacuated to temporary quarters, some of which also burned as the fire changed directions. Other business interruptions reportedly were common in and around Fort McMurray.
Toronto-based Intact Financial Corp., a major Canadian property/casualty insurer, estimated its insured losses on a per share basis that would equal roughly Canadian $130 million to $160 million ($100.5 million to $123.7 million) after taking into account the effect of its reinsurance program and net of tax effects.
Toronto-based credit rating firm DBRS Ltd. said "no credit impact is expected for major insurers operating in Canada as a consequence of the Fort McMurray event due to the general practice by the direct insurance writers of establishing reinsurance programs for such events."
"The reinsurance programs begin to share in the losses when the direct writer has losses exceeding a certain level, ranging from $10 million to (hundreds) of millions, depending upon the size of the direct insurer and its risk tolerance," DBRS said in its analysis. "Therefore, the bulk of the insured losses from the fire will be borne by the reinsurers."
While Standard & Poor's Corp. said the effect on most insurers "should not be material," it did say in an analysis that "insurers with a smaller premium base and more concentrated or outsized exposure to Alberta could face some strain and their ratings may come under pressure."
Assessing those losses could be challenging as adjusters last week had yet to be allowed into Fort McMurray, and residents reportedly were given a tentative date of June 1 to return to the area.
"The business issues are starting to come up," said Heather Mack, director of government relations for Alberta, Manitoba and the North at the Insurance Bureau of Canada based in Edmonton. "People want to know if they can start to get some relief from their business interruption insurance, but because the fire situation is so unsafe in Fort McMurray, we're not able to get adjusters in. The insurers have cat teams in the province ready to go, but there are these hot spots that keep flaring up."
She said the government has hundreds of photographs of buildings in the city, "which insurers will have access to even if they're not physically present."
"They'll be able to see the damage, and they'll be able to potentially start moving some of these interruption claims where you can see the building's gone or there's significant physical damage," she said.
Ms. Mack noted that Fort McMurray was dealing with economic challenges prior to the fire due to falling oil prices. Determining business interruption losses "will be very difficult for insurers and businesses to look at because the economy was fluctuating already," she said.
"It's not like post-hurricane or post-tornado," said Paul Cutbush, senior vice president of catastrophe management at Aon Benfield in Toronto. "We need this technology because no one can get in there to see the damages. If you look at the satellite imagery, it's amazing. You can see which roofs are there and which ones aren't. You principally see residential homes."
"As far as business insurance," he said, "it's just too early because no one can get in there to see the damages."
David Mew, Toronto-based national placement leader at Marsh Canada, said area businesses will face challenges as Fort McMurray is rebuilt.
"If you're supporting the big oil-sands companies, you're still going to have a reasonable amount of business," he said. But for Fort McMurray in general, "you're going to have a lot less population to support until those houses and apartment buildings are rebuilt."
Mr. Mew also said he did not believe "there's going to be a big change in the commercial insurance market, at least in the short- to medium-term in Canada because insurers have plenty of capital to take care of the claims, and a lot of them have pretty reasonable reinsurance programs, where a lot of the losses will end up."