National flood program needs life preserver
Reprints
In a rare case of bipartisan agreement, federal legislators uniformly acknowledge that the National Flood Insurance Program needs to be reauthorized, but regional disagreements and other challenges may trip up a comprehensive overhaul.
The U.S. House of Representatives' subcommittee on housing and insurance has made the NFIP its top priority, holding two hearings in March, while the Senate Committee on Banking, Housing and Urban Affairs conducted its own hearing last month. While there is bipartisan support for the need to reauthorize the program ahead of its September expiration, there is less consensus on specific reforms.
"I think that means that reauthorization will be a lot more modest," said Carolyn Kousky, a fellow at nonpartisan research organization Resources for the Future in Washington. "I think everyone agrees it needs to be authorized ahead of schedule to create certainty. There's not going to be pricing reform. There's very little appetite for just increasing grant programs." Regional disagreements represent a major obstacle to comprehensive reform.
"Flood insurance is not a partisan issue," said Nat Wienecke, senior vice president of federal government relations with the Property Casualty Insurers Association of America in Washington. "I would say one of the key challenges in getting a flood insurance bill done is that this bill tends to have regional implications as opposed to political implications."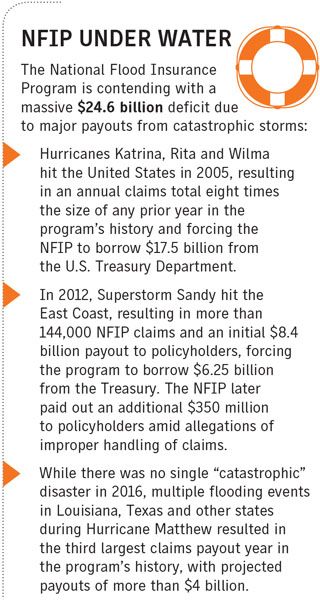 For example, who should pay the costs of elevating homes in flood-prone areas is a question at the center of conflict about how to reform the NFIP. FEMA has worked on convincing homeowners to elevate their homes to reduce flood insurance premiums, but the payback is about 10-20 years and the cost can easily total $200,000, Aram Terchunian, a Westhampton Beach, New York-based coastal geologist and environmental scientist, testified a House subcommittee hearing in March.
"It is not reasonable to expect a consumer to invest up to $200,000 for an annual payback of $4,000 or $5,000," he said. "Nor is it reasonable to expect a homeowner to pay $20,000 to 40,000 annually for flood insurance."
But Rep. Steve Pearce, R-N.M., questioned why his constituents should continue to pay for flood damage or the costs of elevating homes in high-risk areas. "Would it be reasonable, if they subsidize this, that the taxpayer gets the first $200,000 when they sell their home?" he asked. "You're basically transferring value from people who live in New Mexico in trailer houses and you want us to subsidize them."
A program overhaul should also address its impacts on small businesses, which need immediate access to funds for repairs and replacement of inventory and equipment as well as mitigation of future losses, according the Association of State Floodplain Managers, which noted that 50% of small businesses affected by floods will never reopen if they cannot reopen within one month.
Private practice
Some lawmakers see more private-sector involvement in covering flood risks as the solution, with private reinsurers starting to provide some protection to the NFIP from catastrophic losses. FEMA piloted a reinsurance program for 2016 and secured a new placement effective Jan. 1, 2017, through Jan. 1, 2018, through a consortium of 25 reinsurers arranged through Guy Carpenter & Co. L.L.C.
"With FEMA's purchase of reinsurance, it should reduce taxpayer exposure to the big events," said Tom Santos, vice president of federal affairs for the American Insurance Association in Washington.
But major changes would need to happen for private insurers to write additional primary flood risk cover, according to experts.
Private insurers that partner with the federal government to sell NFIP flood insurance policies and help administer the program must sign an annual agreement prohibiting them from selling products that compete directly with those offered through the NFIP — a noncompete provision that must be removed to encourage more private insurer participation, they say.
"There's no reason to take that capacity out of the marketplace," Evan Hecht, CEO of The Flood Insurance Agency, a Gainesville, Florida-based retail and wholesale insurance agency, testified during a House subcommittee hearing Legislation that would clarify that people who buy private flood insurance should receive the same treatment as those who purchase it through the NFIP if they're trying to obtain federally backed mortgages that require flood insurance has strong bipartisan support and should also be adopted, experts say. But there are concerns that any effort to spur additional private-sector participation will encourage private insurers to "cherry pick" the most attractive risks.
"Some might believe the private market would only want to write FEMA's best risks and leave all the poor risks in the NFIP, from our point of view almost exactly the opposite is taking place," Mr. Hecht said. "Nearly all of our 18,500 risks are for FEMA-subsidized policies, the policies FEMA believes are 45% to 50% underpriced."