New CEO named of Aon U.K. risk solutions unit
Reprints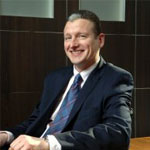 Aon P.L.C. has named Andrew Tunnicliffe CEO of its U.K. risk solutions unit, the London-based brokerage announced Monday.
Mr. Tunnicliffe, previously chief operating officer of Aon Risk Solutions for the Europe, Middle East and Africa region, succeeds Jim Herbert, who has been named chief development officer of the EMEA region.
"Andrew Tunnicliffe's appointment is an exceptional opportunity to significantly develop and grow our U.K. operation" that provides risk management consulting and insurance brokerage services, John Cullen, CEO of Aon Risk Solutions EMEA, said in a statement.
"An experienced business leader, he has considerable knowledge and understanding of our clients' needs and will be a driving force in growing all aspects of our U.K. footprint," he said.