Appeals court rules for same-sex marriage in Utah
Reprints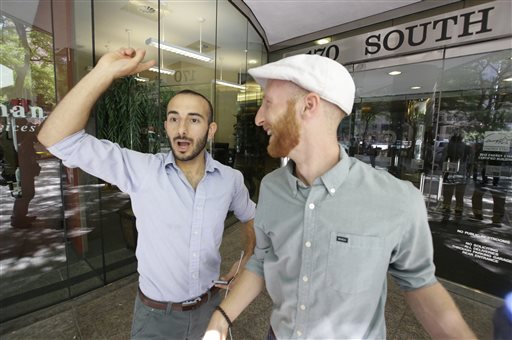 A divided panel of the 10th U.S. Circuit Court of Appeals on Wednesday ruled in favor of legalizing same-sex marriage in Utah.
In a 2-1 opinion, the court upheld a U.S. District Court judge's December 2013 invalidation of Utah's constitutional amendment banning same-sex marriage in the state, concurring that the ban violates gay and lesbian couples' rights to equal protection and due process under the U.S. Constitution.
"The plaintiffs in this case have convinced us that (Utah's same-sex marriage ban) violates their fundamental right to marry and to have their marriages recognized," Judge Carlos Lucero wrote in the court's majority opinion, noting that the ban's approval by two-thirds of Utah voters in 2004 does not trump same-sex couples' constitutional rights, including equal access to marriage rights and benefits under Utah state law.
"The protection and exercise of fundamental rights are not matters for opinion polls or the ballot box," Judge Lucero said.
In a statement released Wednesday afternoon, Utah Gov. Gary Herbert said the state has not yet determined if it will appeal the panel's ruling to the U.S. Supreme Court, though he indicated that an appeal was likely.
In the meantime, the 10th Circuit panel ordered implementation of its decision to be delayed until the Supreme Court rules on or declines to hear the case.
"I believe states have the right to determine their laws regarding marriage," Mr. Herbert said in his statement. "I am grateful the Court issued a stay to allow time to analyze the decision and our options. But as I have always said, all Utahns deserve clarity and finality regarding same-sex marriage and that will only come from the Supreme Court."
The lawsuit seeking equal marriage rights for gay and lesbian couples in Utah is one of two constitutional challenges to state-level same-sex marriage bans currently before the 10th Circuit. The same panel of judges that declared Utah's ban to be unconstitutional Wednesday also is expected to rule on the legality of a similar law in Oklahoma by the end of the month.
Also on Wednesday, a U.S. District judge in Indiana ruled that state's same-sex marriage ban violates gay and lesbian couples' constitutional rights. Indiana Attorney General Greg Zoeller said the state intends to appeal the ruling.
The rulings in the 10th Circuit and Indiana's Southern U.S. District come almost exactly one year after the U.S. Supreme Court's June 2013 ruling in U.S. v. Windsor, which invalidated provisions of the 1996 Defense of Marriage Act that defined marriage for federal purposes as the union of one man and one woman. Since that ruling, federal courts in Utah, Oklahoma, Virginia, Texas, Idaho, Michigan, Pennsylvania, Oregon, Wisconsin, and Indiana have wholly overturned those states' bans on same-sex marriage, while bans in Ohio, Kentucky and Tennessee have been partially overturned.