Getting Burned
Reprints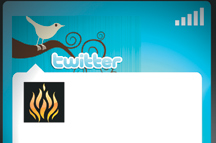 You might not know it, but just 140 characters could land your organization in a whole lot of trouble.
As more and more workers tweet on Twitter or post on Facebook, employers have been slow to establish policies that would protect them from potential liability stemming from their employees' participation in the social networking sites, experts say.
Employers could find themselves held liable for employees' activity on these sites, regardless of whether their participation is on the job or during their off hours, observers say.
Complicating the issue is that some firms encourage employees to participate in social networking sites because they see it as a valuable marketing tool. At the same time, case law in this area lags as courts move to catch up with these social phenomena, experts say.
Rexford H. Stephens, a partner with Baker & Hostetler L.L.P. in Orlando, Fla., said potential liability issues include sexual harassment, bullying and threats of violence. Employee comments about other companies or their products also could raise liability issues for employers; there also is concern about disclosure of confidential and proprietary information from company-endorsed or nonendorsed social networking applications, Mr. Stephens said.
"Employers may not find out what is being said about the company or its employees until a problem arises, which presents a real problem," said Jonathan T. Hyman, a partner with Kohrman Jackson & Krantz P.L.L. in Cleveland.
Meanwhile, social networking site usage continues to grow. The recent "Deloitte L.L.P. 2009 Ethics & Workplace Survey" found that about 55% of employees visit a social networking site at least once a week, but only 22% of firms have formal policies that dictate how employees can use social networking tools.
"There is a learning curve," said Eric B. Meyer, an associate with law firm Dilworth Paxson L.L.P. in Philadelphia. "Some employers may not even know what Twitter is, let alone other social networking sites and tools."
San Francisco-based Twitter Inc., just more than two years old, limits messages to 140 characters but also accommodates images.
"Most employers have not been as thoughtful about social networking sites as one would hope" because the technology has developed so quickly, said William C. Martucci, a partner with Shook, Hardy & Bacon L.L.P. in Kansas City, Mo.
"The more people that use it, the more risk there is," said Margaret M. DiBianca, an associate with law firm Young, Conaway Stargatt & Taylor L.L.P. in Wilmington, Del. "I just can't encourage employers enough to get out there and get in the forefront" of this issue.
While it's not realistic to forbid employees from using any social networking sites or tools, "It's impossible to get a handle on what employees do on their private time, let alone what they're doing in their work time," Mr. Hyman said. "The answer is, you have to have a policy that sets reasonable expectations for employees as to what is appropriate, and what isn't appropriate, on the social network."
As a first step, "assess the company's culture, because the company has to decide what its core values are," and whether it wants to encourage employees' use of social networking sites, Mr. Stephens said.
Next, "Understand that there is only a certain amount of control that a company has over its own endorsed social media applications, and especially away from the workplace," he said.
Then, assuming the company has one, "convert your existing policy to cover these social networking applications," Mr. Stephens suggested. "Many companies have already addressed electronic communications, specifically e-mails, and likely have already addressed Internet use at work."
"You don't need to reinvent the wheel," agreed Jerry Stevenson, director, global HR technology practice, at Buck Consultants L.L.C. in Dallas.
"Develop some clear expectations that are communicated to employees about the proper use of social networking sites and what may be considered proper and what may be considered inappropriate," Mr. Martucci said.
Employees need to understand they are expected to act in a "businesslike, professional manner," said Mr. Hyman. "It's fair to expect an employee not to post pictures of their drunken weekend party that could negatively reflect on that company, because it will."
It is also "really important" that employees "identify who they are and what their role is in the company," Mr. Stevenson said.
The policy also should warn employees against discussing trade secrets or other confidential information, said Marc S. Reisler, a partner with Holland & Knight L.L.P. in New York.
Observers praise Armonk, N.Y.-based IBM Corp.'s Internet policy. A company spokesman said the 2005 policy was updated last year to cover new social media and there have been few, if any, problems.
"We've done a fairly good job of mitigating risk," the spokesman said, noting the policy was developed by IBM's social networking employees, about 60,000 of whom participate in the online networking site operated by Palo Alto, Calif.-based Facebook Inc. The policy, at www.ibm.com/blogs/zz/en/ guidelines.html, warns employees to clearly state that opinions they express relating to IBM are their own; not to reveal information that's proprietary to IBM; and not use words or engage in conduct that would not be acceptable in the workplace, among other things.
While observers stress that employees should be told clearly that they should not expect privacy, companies still must grapple with whether, and to what extent, they should monitor employees' use of social networking sites on the job and on their own time.
It is "absolutely vital" that employers monitor what is said about their firm on social networking sites so they can react quickly, Mr. Stevenson said.
But Mr. Meyer said monitoring has a down side. "Sometimes what you don't know can't hurt you under the law, and once you find out that an employee, for instance, is making racial epithets toward another employee on Facebook, the employer would have an obligation to investigate and do something about it."
On balance, though, Mr. Meyer said he likes the idea of monitoring because "an employer has a finger on the pulse of its business and how the employees feel about the business."
At IBM, however, "We don't actively police employees' behavior." It has "largely been a self-moderating community. If something crosses the line, (employees) take care of it themselves," the spokesman said.
Employers also must avoid becoming liable by acting inappropriately on information they learn about employees from social networking sites, say observers. Thirty-three states have laws that prohibit employers from taking action against workers based on lawful activity they may have learned about from these sites, said Frederick J. Barrow, an associate with Littler Mendelson P.C. in Dallas.
Union activity also is protected, observers say.
Case law in this area lags. "The law definitely has some catching up to do," because social networking sites are relatively new, which means "cases really just haven't been presented yet in great numbers," said Mr. Meyer. Courts, though, have experience dealing with other non-face-to-face communications issues.